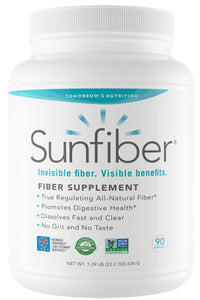 TOMORROW'S NUTRITION SunFiber® (90 Day)
Certified low FODMAP prebiotic soluble fibre (Sunfiber).
Tomorrow's Nutrition Sunfiber® delivers 6 grams of clinically proven, clear, grit free soluble fibre. Dissolving fast and clear in your favourite beverage, it won't alter the taste or texture of foods. Sunfiber® may be added to recipes when cooking and baking. 
True regulating all-natural fibre*
Improves both occasional constipation and diarrhea without excess gas, cramping or bloating*
Promotes intestinal and colon health*
Helps reduce the glycemic index of foods*
Low FODMAP certied
Proven prebiotic*
Delivers healthy satiety effect*
Gluten free
Non-Dairy
Vegan
Tub containing 630g - 90 Day supply
Ingredients (per 7g serving)
7g Sunfiber® Guar fibre (Partially Hydrolysed Guar Gum) - contains 6g soluble dietary fibre.
Other ingredients: None
Directions
As a dietary supplement, mix 1 scoop into 6-8 oz. of water or non-carbonated beverage. Stir until dissolved.


Low FODMAP serving size  
1 Scoop (approx. 7g) 
Storage
Store in cool, dry place after opening.

Caution


If pregnant, nursing, taking medication, or have a medical condition, consult your healthcare practitioner prior to use. Keep out of reach of children.


* These statements have not been evaluated by the Food and Drug Administration. This product is not intended to diagnose, treat, cure or prevent any disease. Individual results may vary. 


---
We Also Recommend
---