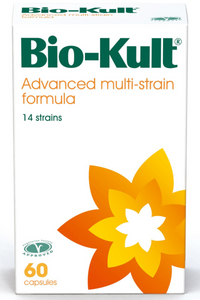 BIO-KULT Advanced Multi-Strain Formula (60 capsules)
Bio-Kult contains live bacteria to complement the existing gut flora naturally present in a healthy person's digestive system. 
Bio-Kult is a unique multispecies, multistrain probiotic with 14 strains of beneficial bacteria. This means that Bio-Kult can deliver high concentrations of beneficial bacteria to the colonisation sites in the gut and help a diverse range of digestive disorders.
14 protected live bacterial strains - proven to survive the high acidity of stomach acid
GLUTEN FREE
No artificial colours, flavours, or preservatives
No need to refrigerate. Can be stored at room temperature
Vegetarian Society Approved
The beneficial bacteria in Bio-Kult are micro-encapsulated during the freeze-drying process, which gives two main benefits:
They are protected from the harsh acid environment of the stomach and are therefore able to colonise the full length of the gastrointestinal tract.
The process allows Bio-Kult to be stored at room temperature without the need for refrigeration.
Minimum 2 billion live cultures/strains per capsule, equivalent to 10 billion live cultures per gram.
Ingredients
Amounts Per Capsule
Microcrystalline Cellulose (bulking agent), Live Bacteria Cultures (Bacillus subtilis PXN 21, Bifidobacterium bifidum PXN 23, Bifidobacterium breve PXN 25, Bifidobacterium infantis PXN 27, Bifidobacterium longum PXN 30, Lactobacillus acidophilus PXN 35, Lactobacillus delbrueckii ssp., bulgaricus PXN 39, Lactobacillus casei PXN 37, Lactobacillus plantarum PXN 47, Lactobacillus rhamnosus PXN 54, Lactobacillus helveticus PXN 45, Lactobacillus salivarius PXN 57, Lactococcus lactis ssp. lactis PXN 63, Streptococcus thermophilus PXN 66), Vegetable Capsule (Hydroxypropylmethyl Cellulose).
Allergy advice - For allergens, see ingredients in bold.

Suitability / Allergen Information
May contain SOYA and MILK as these are used in the growth media of the strains.
Traces of Milk are at a level that would not affect lactose intolerance sufferers.

Directions for use
Bio-Kult can be used on a continuous basis or for a short period of time, e.g. when taking antibiotics or going away on holiday.
Adults - 1-2 capsules once or twice daily with food (or as recommended by your doctor or healthcare practitioner).

If you are taking antibiotics - Take 4 capsules daily, ideally at a different time of day from the antibiotics. Continue taking for at least 2 weeks after completion of the antibiotic course.

For travellers - 1 week before travel follow guidelines for general use. During travel take 4 capsules daily. Continue to take for at least 1 week following the end of travel.

Children under 12 - half adult dose.

Bio-Kult capsules can be pulled apart and the contents sprinkled onto food, mixed with a drink or swallowed whole.
Food supplements should not be used as a substitute fora  varied diet and a healthy lifestyle.
Keep out of reach of children. 
---
We Also Recommend
---