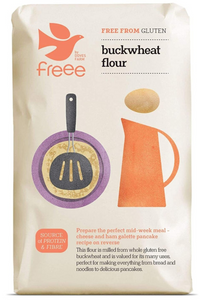 DOVES FARM Gluten Free Buckwheat Flour (1kg)
Milled from whole buckwheat, this 1kg bag of Buckwheat Flour is flavourful, versatile and milled from whole gluten free buckwheat which is perfect for making gluten free bread, noodles and delicious sweet or savoury pancakes.

Coeliac UK certified as gluten free
Kosher certified
Buckwheat Flour.
Ingredients from more than one country. Milled and packed in the UK.
Recipe suggestion: Buckwheat soda bread
200ml Plain yoghurt (lacto free)
250ml Tepid water
3 Tbsp Oil
500g Buckwheat flour
2 Tbsp Icing Sugar
2 tsp Bicarbonate of Soda
2 tsp Xanthan Gum
1/4 tsp Salt
1 Tbsp lemon juice
Oil for the tin
Measure the yoghurt, water and 2 tbsp of the oil into a jug. Add the lemon juice. Stir to combine.
Oil the inside of a 1kg/2lb loaf tin, or line with parchment and pre-heat oven (240 Celcius or 220 for fan oven).
Sieve the flour, sugar, bicarbonate of soda, xanthan gum and salt into the bowl and stir to combine.
Add the prepared yoghurt mix to the bowl and stir everything together to make a soft, sticky dough mass.
Tip the dough into the prepared tin, smooth the top and brush the remaining spoon of oil over the top.
Cover the tin with oiled tin foil, creating a dome so that the bread can rise during cooking. Bake for 55 minutes.
Carefully remove the tin foil, lower the oven temperature to 200 C/180 C for fan and bake for a further 10 minutes.
Turn the bread out onto a wire rack and cool completely before slicing.
---
We Also Recommend
---