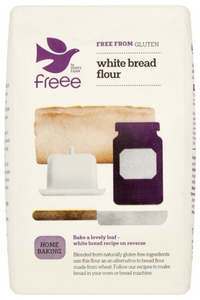 DOVES FARM Gluten Free White Bread Flour (1kg)
Blended from naturally gluten free ingredients, this flour can be used as an alternative to wheat bread flour.
Flour Blend (Rice, Tapioca and Potato), Thickener (Xanthan Gum).
Ingredients from more than one country. Milled and packed in the UK.
Free from Gluten, Milk, Peanuts, Egg, Soya and Wheat.
Baking instructions
Bread machine - Medium White Loaf
4 tbsp Vegetable Oil

375ml Water (tepid)
2 Egg Whites
1 tsp Vinegar
1 tsp Salt
1 tbsp Sugar
500g White Bread Flour

2 tsp Quick Yeast
Use a bread machine with a gluten free bread setting (e.g. Panasonic)
Add all ingredients to the machine pan

in the order shown above

 (yeast last). Don't leave out any of the ingredients!
Start machine on Gluten Free Bread or Basic Rapid programme (~110mins).

Oven - Medium White Loaf
2 Egg Whites
6 tbsp Oil
1 tsp Vinegar
1 tsp Salt
2 tbsp Sugar
400ml Water
500g White Bread Flour
2 tsp Quick Yeast
Put egg whites, vinegar, sugar, salt, water and half the oil into a bowl and whisk well.
Add the flour and yeast, mixing to a smooth, thick batter.
Pour the remaining oil over the dough and trun with a spoon bringing together a soft dough mass.
Tip the dough into an oiled 1kg/2lb bread tin and smooth the top.
Loosely cover with oiled cling film and leave until the dough has risen to the top of the tin.
Bake in a pre-heated oven (Oven 220 Celcius/Fan 200 Celcius) for 55-60 minutes. 
---
We Also Recommend
---