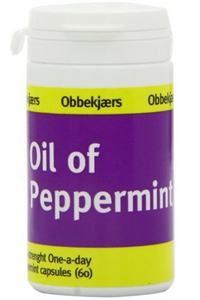 OBBEKJAERS Peppermint Oil Capsules - Extra Strength 200mg (60 capsules)
Obbekjaers (pronounced Obb-a-cares) are the brand leader in peppermint oil products. Manufactured in Denmark, Obbekjaers have been making and supplying peppermint oil supplements to the UK and the world for over 25 years.
Oil of peppermint has been clinically proven in double blind trials to relieve the symptoms of IBS with trials in hospitals in Denmark and the UK achieving excellent results. In the Danish double blind trials, patients took Obbekjaers oil of peppermint capsules for four weeks and 68% reported an improvement in their symptoms. Oil of peppermint is an antispasmodic which has a relaxing effect on the smooth muscles of the intestine and stomach and aids digestion.
One-a-day extra strength (200mg per capsule)
Alleviates stomach pain
Aids digestion
Ingredients
200mg Oil of Peppermint per capsule suspended in pure sunflower seed oil.
Shell: Gelatine and Glycerol.
Directions for use
Swallow 1 capsule daily with a little water before a meal. Up to 3 capsules can be taken daily if necessary for full effects.
Food supplements should not be used as a substitute for a varied diet and a healthy lifestyle. Keep out of reach of children. 
---
We Also Recommend
---