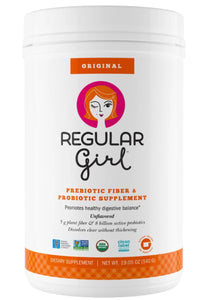 REGULAR GIRL Original Powder [TUB] (90 Day)
"Life is anything but regular. That's why there's Regular Girl" (and it's not just for girls!) "A synbiotic* blend of prebiotic fiber and probiotics that help support a healthy digestive balance, so you can feel your best from inside out"
Do you suffer from occasional constipation or diarrhea? Are you worried whether your stools are 'normal'? Are you sure you are getting enough soluble fibre?
Regular Girl is clinically proven to deliver true regularity, without excess gas, cramping or bloating**. The combination of prebiotic soluble fibre (Sunfiber) and probiotics help support favourable intestinal microflora**, promoting balanced digestive health.
Certified Low FODMAP by Monash University
5g plant fibre and 8 billion active probiotics***
Unflavoured, dissolves quickly and completely without thickening
Organic (USDA)
Gluten Free
Vegan and Vegetarian
Kosher certified
All natural, non GMO Project Verified
Low calorie
Tub containing 540g - 90 day supply
---
We Also Recommend
---