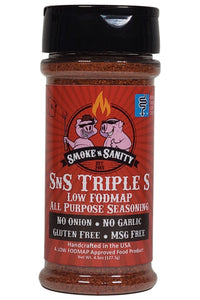 SMOKE N SANITY Triple S All Purpose Seasoning (127.5g)
Triple S All Purpose seasoning gets its name from the flavour profile it presents. First you experience the sweetness, then a few seconds later the saltiness arrives, and finally the spiciness builds.
All three flavours are well balanced so none of them are overpowering creating a fantastic all purpose seasoning. This spice will surely become your go-to seasoning. Use it on almost any type of protein, vegetables of all varieties, even works to make a chip dip!
This seasoning allows you to dial up as much flavor as you want for every occasion. Remember, always shake well before using.
Certified LOW FODMAP by MONASH UNIVERSITY 
Gluten-free
MSG Free
No Dairy
Allium free (no Onion or Garlic)
Certified Kosher
Ingredients
Pepper blend (blend of ancho, chili and chipotle pepper), salt, brown sugar, spices, torula yeast
Monash University Low FODMAP Certified™ spice blend. One serving of this product is low in FODMAPs.

This serving size is low in FODMAPs and should be tolerated by most individuals with IBS. However, chilli also contains capsaicin, a natural ingredient which produces a spicy effect and can trigger heartburn and abdominal pain in some individuals with IBS. Limit intake if IBS symptoms occur after ingestion of spicy foods.
---
We Also Recommend
---